Click Here to Join Us in Support of COVID-19 Response Efforts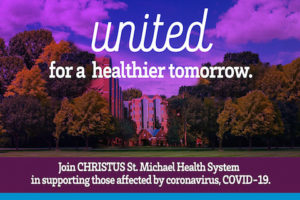 Join us in uniting for a healthier tomorrow. We greatly appreciate your care and concern for our patients, our Associates and our ministry while we face the challenges of COVID-19.
In response to so many who have reached out to offer help, we have set up a dedicated fund to support our response to COVID-19. These generous donations will be designated to:
Helping the most poor and vulnerable cover health care costs related to COVID-19;
Providing support to our hospital's supply, equipment or program needs related to COVID-19 response; and
Supporting the needs or hardships of caregivers resulting from COVID-19.
Thank you again for your encouragement and support. We are humbled by your faith in our ministry and our mission to Extend the Healing Ministry of Jesus Christ. To make a donation in support of caring for our most vulnerable, click HERE to DONATE.
For more information regarding COVID-19, click here.