Thank A Doctor – Doctors' Day 2020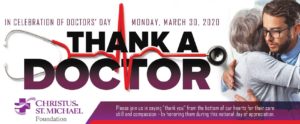 Please join us in saying "thank you" from the bottom of our hearts for their care, skill and compassion – by honoring them during this national day of appreciation.
In addition to a donation, we welcome you to include a personal "thank you" note in our comments section. The "thank you" message will be delivered to the physician by the CHRISTUS St. Michael Foundation.
We are grateful, everyday, for the hard work and compassion shown by physicians at CHRISTUS St. Michael Health System. We are also thankful for YOU and your continued support of our mission of extending the healing ministry of Jesus Christ.
Proceeds will benefit cardiovascular services at CHRISTUS St. Michael Health System. Make a donation in honor of a physician here.