CHRISTUS St. Michael Crisis Care Fund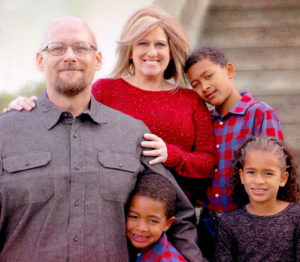 Caring through Crisis
When ICU RN Stephen Hanes comments that his family is blessed, it may seem like polite conversation. But, Stephen doesn't use the term lightly, and his sincerity shines through. Despite a series of unimaginable life-altering events face by his family since September of 2013, Stephen remains grateful for blessings.
Five years ago, Stephen and his wife, Shirlenea, lost their daughter Whitney. Whitney's life was taken by the father of her three children, who were only one, two, and three at the time. The Hanes lovingly stepped-up to raise their grandchildren.
This emotional distress of this tragedy led Shirlenea to experience what is termed conversion disorder. As the family began to health from this event, Stephen was then diagnosed with Stage III lymphoma. Then, Earlier this year Shirlenea received the devastating news she too has cancer of the colon. While Stephen's cancer is in remission, he still lives with a 70% chance of the cancer returning, and unfortunately, Shirlenea's prognosis is not favorable.
Through it all, Stephen says he remains grateful and he wants everyone to know he is thankful for his CHRISTUS St. Michael work family, the kindness and support his co-workers continue to share, and the relief the Crisis Care Fund has delivered.
Our Crisis Care Fund is so important as it provides assistance to CHRISTUS St. Michael Health System Associates during times of personal crisis such as house fires, illness, death, and other tragic life-altering events. Please gift of $10, $20, $50 or any amount to the Crisis Care Fund to help local CHRISTUS St. Michael Associates during times of need.
Without your generous support, this fund will not be sustainable. For families like Stephen's, we as that you please help us continue this mission.
Make a gift to the CHRISTUS St. Michael Crisis Care Fund.
Associates: Payroll Deduction Form complete and email to cristy.lummus@christushealth.org